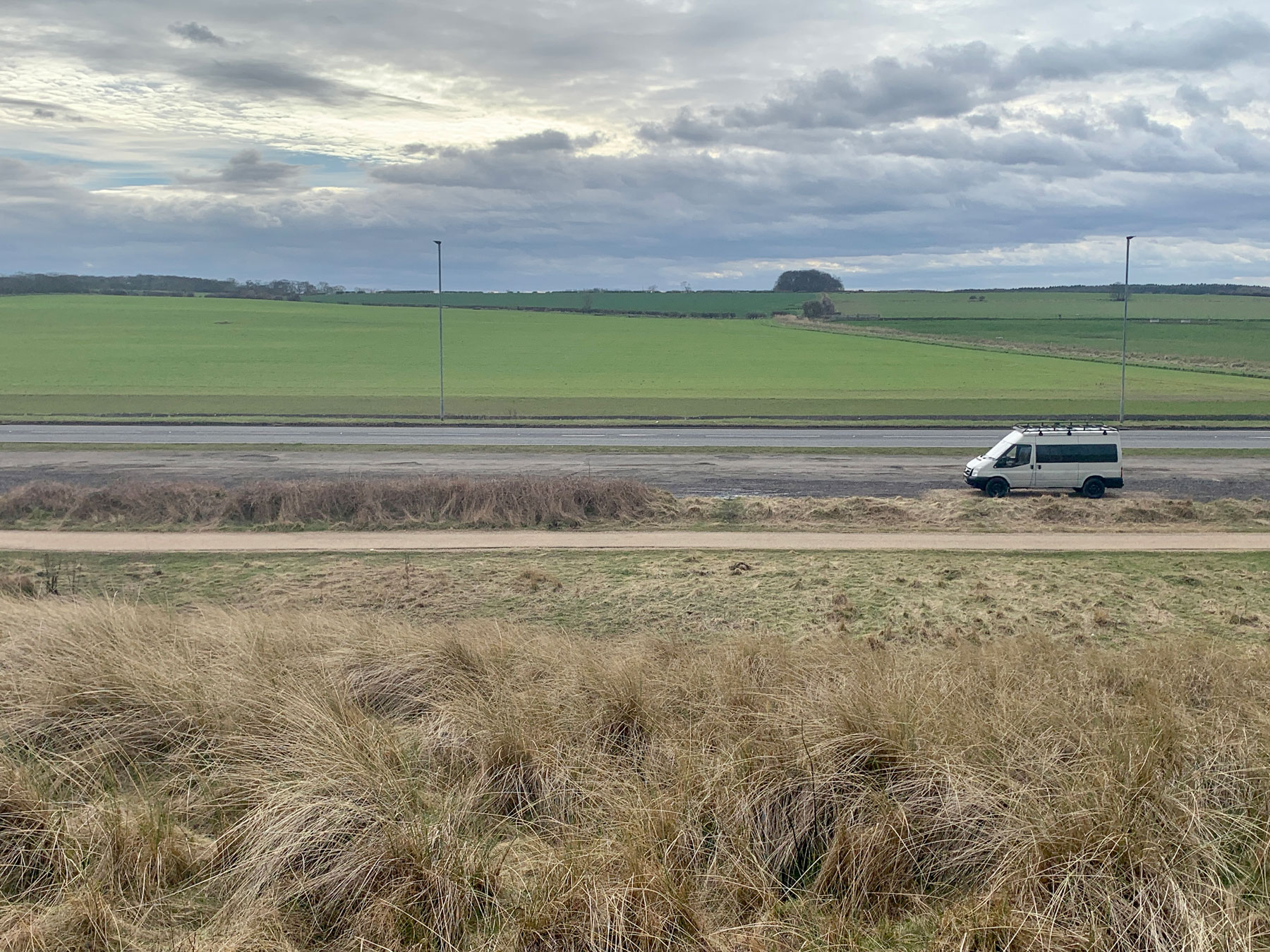 Becoming a Digital Nomad
I've sat in a windowless loft for near on a year now amidst a pandemic which has affected folk in different ways, trying to make the best out appalling Sky Broadband, and a camper-van sat on the road outside and increasing thoughts about autonomy and creative freedom and the new way of working post Covid-19. The company I work part time for as Art Director (Cloudworkz) means I can work remotely, without taking this too literally, one day I decided to see if it would work turning the van into a mobile office with which i could easily change the scenery simply by turning the key.

Part of the process of seeing if it works would be a list of pro's and con's, quantity of work achieved and the limitations which formed blockers and barriers to me getting stuff done. 

I found a cool parking space with a view of the picturesque St Mary's Lighthouse near Whitley Bar on my first venture, blue sky all around and the reward of a surf if I completed all my work on time (Y'all know I love to surf, now!) parked up the van, set up a makeshift picnic table (this is limitation #1) and got out the MacBook.
Limitations
AC Power
Power was always going to be a problem as the van only has 12v cigarette lighter sockets and several USB sockets powered from the leisure battery. I'd been advised to purchase a DC convertor unit, I found one on Amazon for £89 which looks good, this would then mean I could work for extended periods of time as the laptop wouldn't run out of juice.
My current makeshift table
A pop up wooden slatted wood picnic table stolen from the back yard is the best I have for now, each time I move I have to pack it away, the mouse won't easily work on it and it gives you aches after prolonged use.
Adult AD:HD Brain (Inattentive)
The good thing about the van is I can find a nice spot, put some sounds on and try my best to focus on the task in hand (easier said than done) but without the distractions or need some constant scenery changes of the aforementioned loft, it's a little easier to 'crack on' 
Conclusion
Week one has been good and I've learnt a few things if I want this to work…
Tips
Take the dog for company

Find a quiet (free) parking spot where you're not going to be bothered, gawped at or moved on.

Make sure you have everything you need to work and hold concentration (water, food, hot drinks etc)

Learn how to us your mobiles personal hotspot or all your devices

Make sure your devices are fully charged before setting off or invest in an DC to AC power supply

Take regular breaks (or go surfing)

Don't try and do too much in one day.

Find some nice chilled playlists

 
If you have a van set up or work on the road, I'd love know how you get (in the comments) on with working away from home (especially tips) and what locations you work in (send me a pin especially in the North, UK).
Update
after posting this yesterday some kind soul bought me a new Dc Invertor to get me on the road with my work (Yes!) and as though that wasn't nice enough they bought me a rear door ladder too! Thanks a million!